Frequently Asked Questions in Customer Service
Here is a short list of frequently asked questions (FAQs) related to the customer service industry. Learn about the main concepts, KPIs, and more.
Automated conversations enable AI (Artificial Intelligence) and ML (Machine Learning) to recognize the content of a question when it is received and to forward it accordingly to the most suitable source of knowledge: for example to Guurus – certified product users – for product-related advice or to the SmartBot for repetitive questions.
In terms of the SmartBot, 'automated' means that the SmartBot has a knowledge base that can automatically answer frequently asked questions. The knowledge base is continuously expanded with the chat content managed by the Guurus. Automation is the motor of our SmartBot.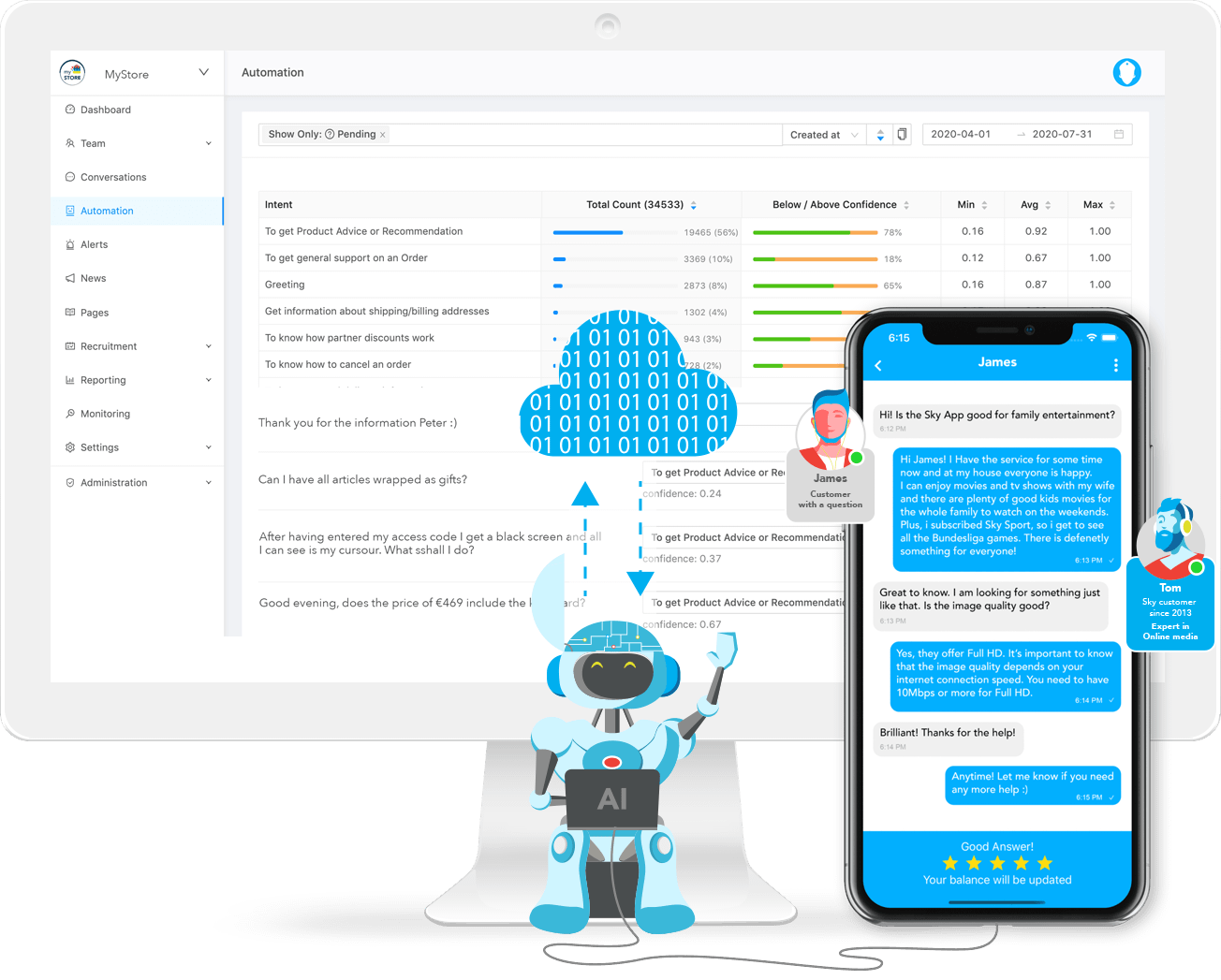 A bounce rate is the percentage of website visitors who leave a website – it should be as low as possible. Other important parameters are the time spent on the page.
If you have a high bounce rate and a low retention time on your page, you should consider updating the content elements.
For example, with easily accessible support that is available around the clock.
Chatbots are effective in resolving basic customer cases.
However, for more personal and questions relating to real-life experience, a live chat that includes peer-to-peer support is the most effective.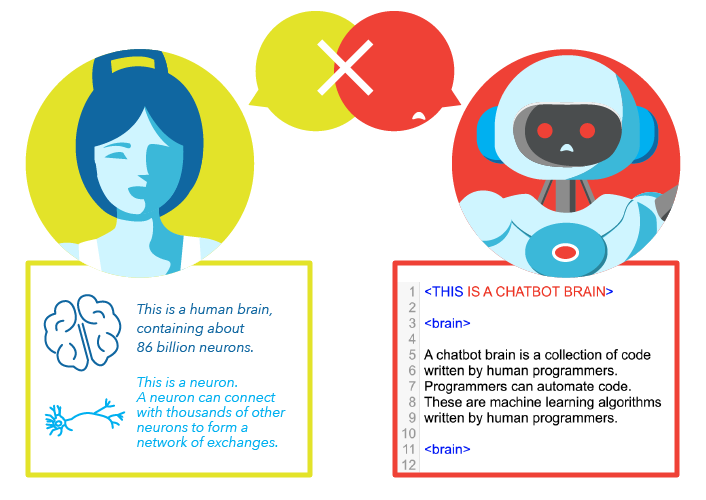 Chatbots have a limited knowledge base that can be very helpful for answering repetitive questions, for example "do you deliver to Germany?".
To ensure an authentic answer, there should be an option in place to forward an enquiry to certified product users (Guurus).
Sales conversions usually increase after a live chat with an expert.
Conversation tags allow conversations to be visually scanned. Every conversation can have multiple tags associated.
A Customer community consists of customers or experts of products or services who share their experiences with other customers.
Familiar from forums, customers can now share their knowledge live and instantly with support-seeking customers through popular digital channels such as live chat, Whatsapp or Messenger.
This leads to greater customer satisfaction and increases the completion of purchases.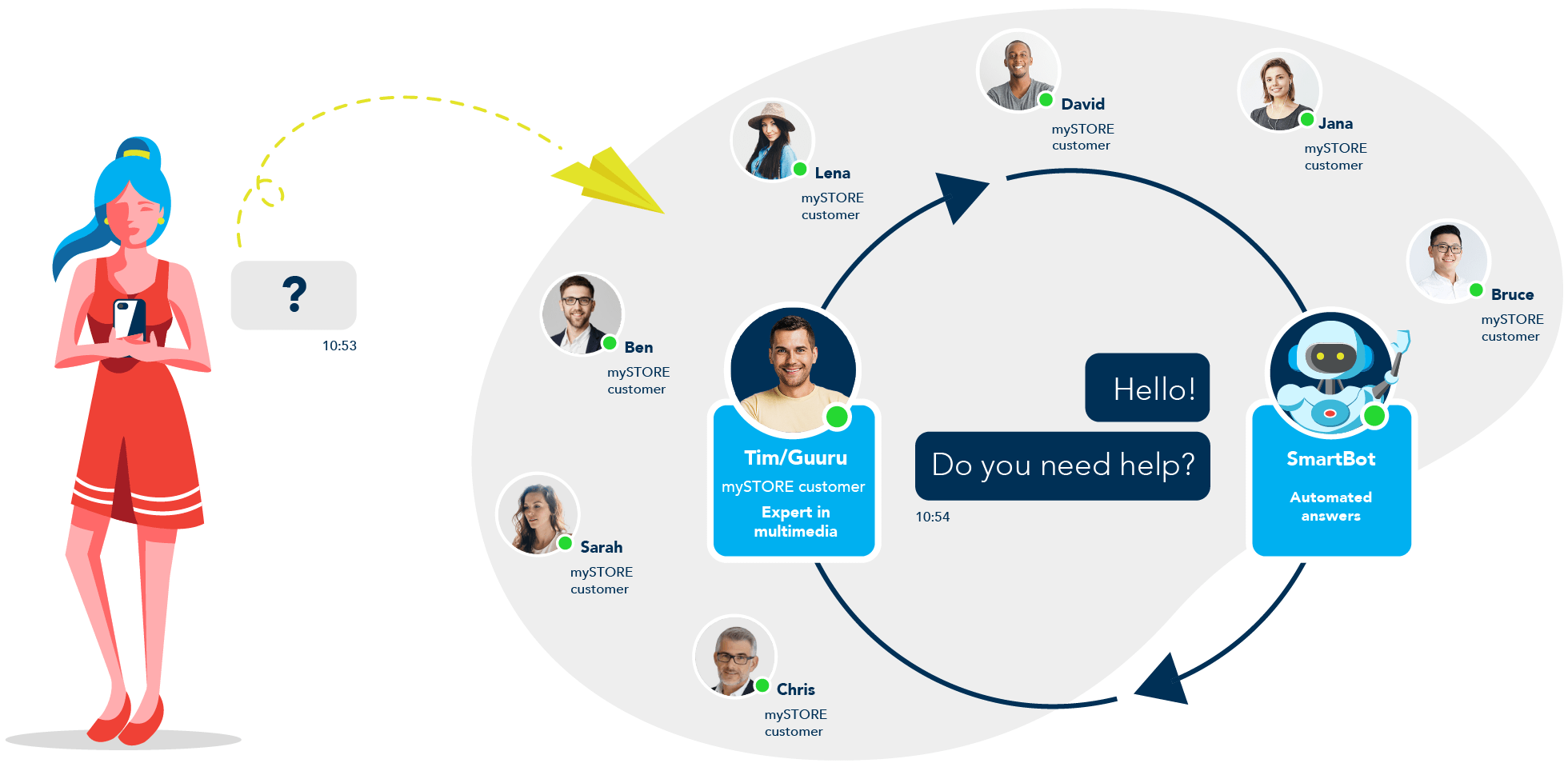 Live chat does not slow down a website. The GUURU Live Chat code is extremely light and can be easily added to the Google Tag Manager or Adobe Tag Manager by simply copy-pasting it.
First Contact Resolution (FCR) is the percentage of contacts that are resolved by the support team on the first interaction with the customer.
For live chats, this means that the customer's issue is resolved before they end the chat session.
Hot-Transfers allows Guurus to transfer a chat to agents in real-time when there are agents available in the system.
NPS stands for Net Promoter Score.
NPS is the main key performance indicator (KPI) used in customer service to measure customer satisfaction.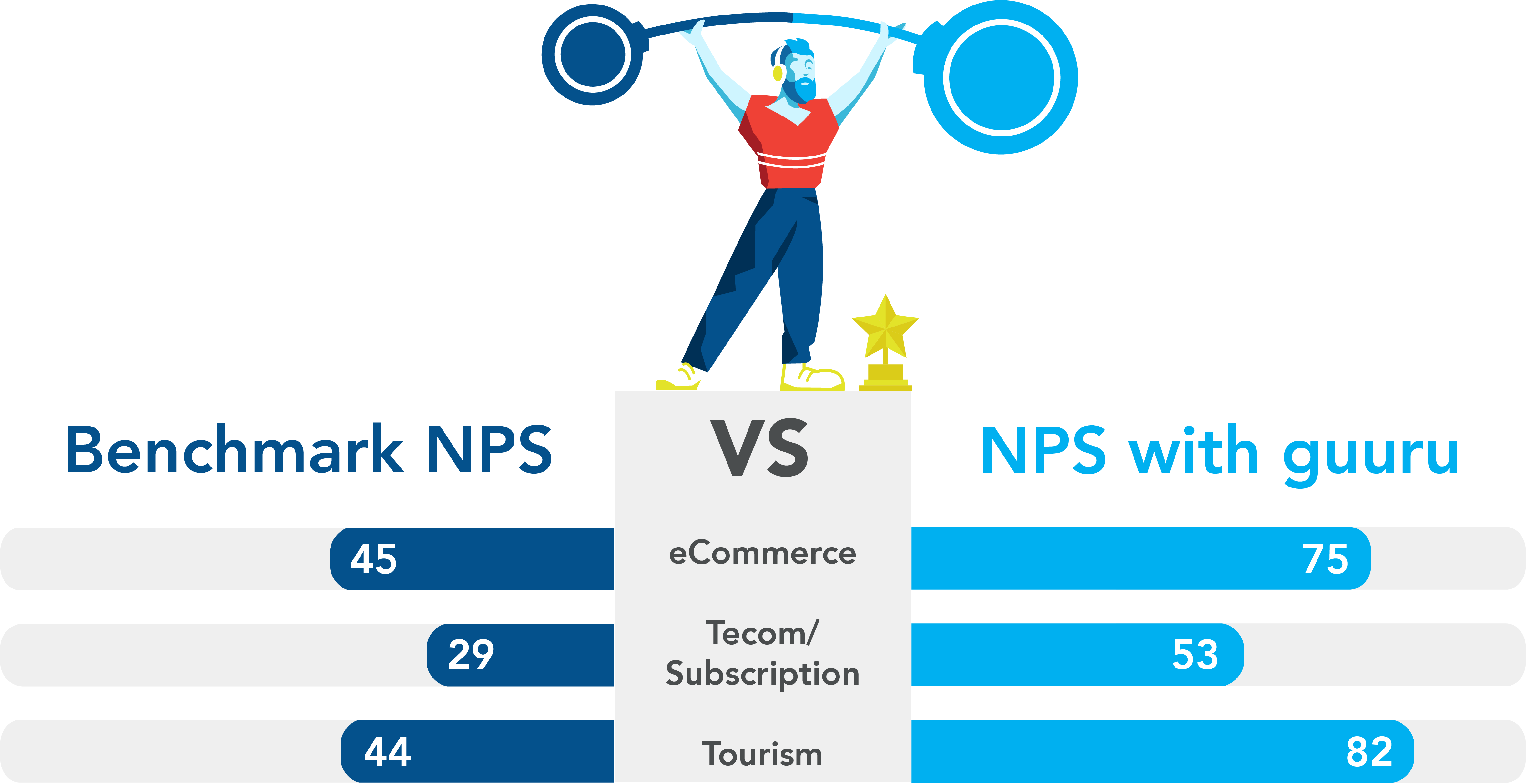 Peer-to-peer support means that product users help other customers.
This happens live and instantly with Guuru via live chat.
With Brack.ch for example, customer enquiries are answered by other Brack customers.
Peer-to-peer support is becoming increasingly popular and provides brands with reliable and authentic customer support, 24/7.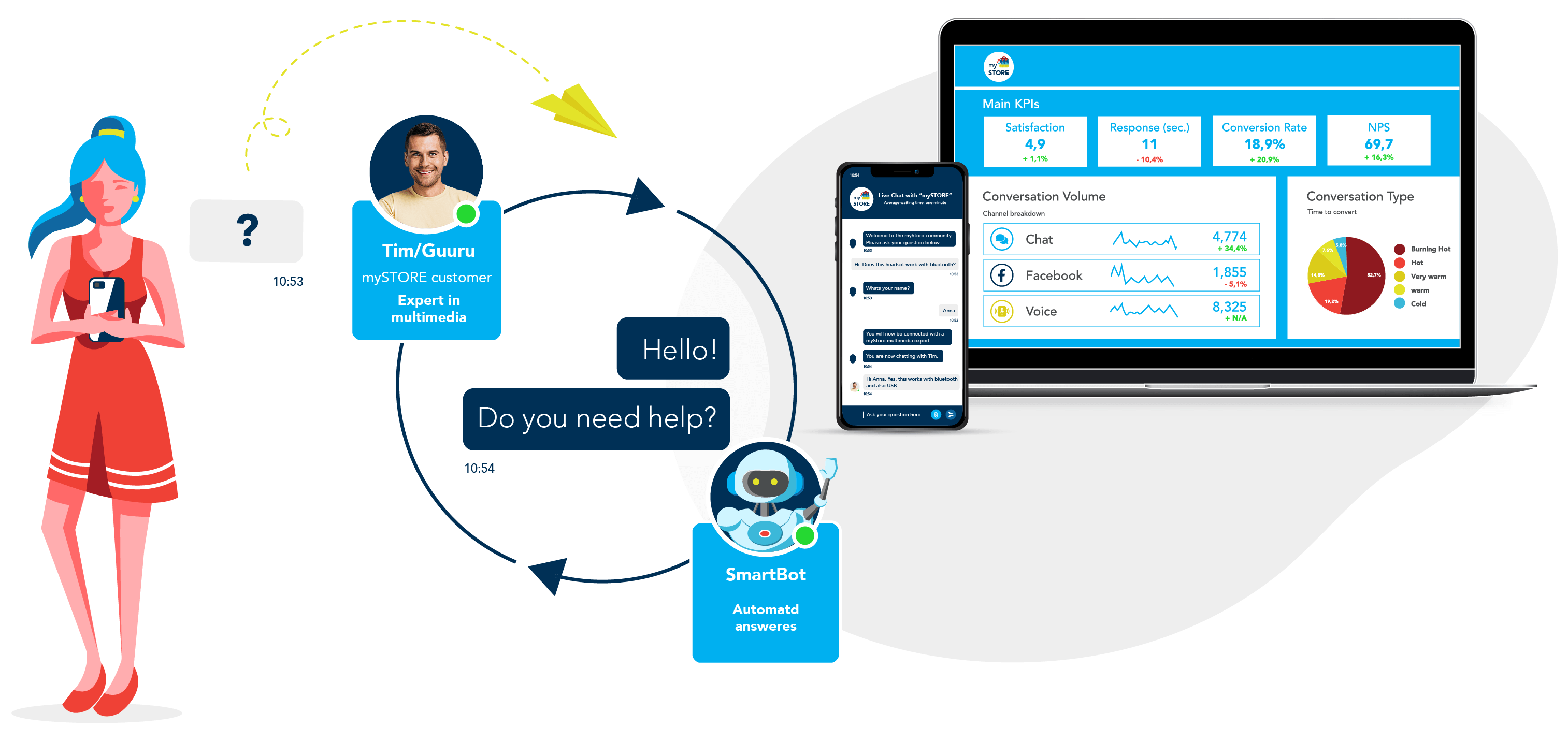 The GUURU SmartForm is an AI-powered contact form detecting the content of incoming user inquiries and routing them in real-time to the best support source. As a result, most of the incoming support inquiries are answered right away before hitting your ticketing system – either through the GUURU SmartBot or via live chat by knowledgeable product users or your agents.
SMS fallback allows chat users to provide their mobile phone number while waiting for a Guuru (or agent) and leave the chat window.
Once a Guuru accepts the chat request, an SMS is sent to the user with a link that allows the user to go back to the chat and continue the conversation.
The best solution for call deflection (to relieve agents) is peer-to-peer live chat.
Peer-to-peer live chat offers an excellent customer experience, as questions are answered quickly, authentically, and 24/7.
It can be combined with a SmartBot to optimize costs.
This approach means that agents only receive questions that are more complex and can take the necessary time to answer them.
Yes, you can integrate Facebook with GUURU.
Our Facebook integration allows chat with your Facebook fans and customers right from the GUURU application.
Yes, you can integrate SalesForce with GUURU.
Our SalesForce integration automatically creates, updates, and closes cases keeping all conversations that come through GUURU synchronized with SalesForce.
Optionally, conversations transferred in GUURU can be assigned to a queue of your choice and be handled by your team in SalesForce.
Yes, Zendesk can be integrated with GUURU.
Our Zendesk integration allows your chats transferred to be sent to your Zendesk installation as tickets.
Additionally, if you are using Tickets web forms it allows us to map our transfer targets with your web forms and map our transfer custom fields with your Zendesk custom fields.